It's past peak fall color season but winter still hasn't arrived (at least not in full force, anyway), so there's still time to get out and explore Oneida County. Here are a few options for what to see and do in Wisconsin's Northwoods.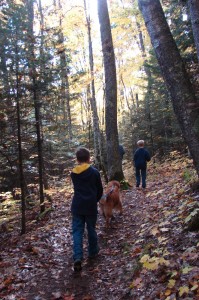 Explore the trails. Do you like hiking? Biking? Birdwatching? Take advantage of Oneida County's trail system before it gets too cold (but even when winter hits, you can find great snowshoeing and cross-country skiing options).
Do a little shopping. Whether you're looking for a perfect gift for your spouse or want to treat yourself for getting your holiday shopping done early, Oneida County is filled with charming shops, galleries and more. You'll find something on everyone's list. Learn more about Oneida County's shopping options.
Try tracking down a musky. Musky fishing season runs until November 30, so you still have time to go after this "fish of 10,000 casts." Musky season picks up when the water gets cold, so use jerkbaits, crankbaits and bucktails (or live suckers) and get out on one of Oneida County's 1,000-plus lakes. Learn more about fall fishing in Oneida County.