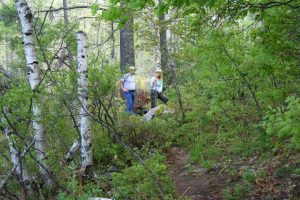 There's still a lot of snow in the Northwoods, but it's not too early to start looking to spring. A great way to watch the forest wake up from its long winter slumber is a hike along one of Oneida County's many trails.
One of the most beautiful trails is the Raven Trail. This 13.5 mile trail runs through dense forests and around scenic lakes. Wildlife is abundant in this part of the forest. A separate nature trail provides excellent birdwatching opportunities in the spring. Biking and leashed dogs are allowed on all but the short nature trail.
The trail is moderately hilly, with some steep hills. Low spots will of course be muddy in the spring, but that's part of the fun of hiking at this time of the year.
To get to the trail from Woodruff, take Highway 47 east for about 3 miles, then drive north on Woodruff Road.