Experience the Magic of Fall in Wisconsin's O.C.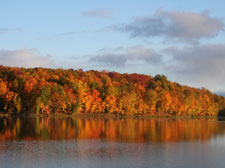 There's no better place to experience the magic of fall than Oneida County in the Northwoods of Wisconsin. Pine trees mix with hardwoods to create a tapestry of fall color you won't find anywhere else. This sample itinerary will give you an idea of how to get the most out of a two-day, two-night trip to "The O.C." of Wisconsin.
Day 1
5pm – Arrive – The communities of Rhinelander, Minocqua, Pelican Lake, Three Lakes, Hazelhurst, Lake Tomahawk, St. Germain, Rhinelander Resorts and Tomahawk are popular vacation destinations. Choose from resorts, cottages, vacation homes, motels and bed & breakfasts. A two-day, two-night fall getaway to Oneida County is quite affordable. Expect trip costs to range from $150 to $300 for a couple.
6pm – Dinner – Choose from dozens of restaurants located in Oneida County's nine communities.
7pm – Trip to Outer Space – See a star show at the Kovac Planetarium, located just minutes from Rhinelander. The Kovac Planetarium is the world's largest mechanical globe planetarium. For reservation information, visit www.kovacplanetarium.com.
9pm – Time for Bed – Rest up for the action-packed day tomorrow!
Day 2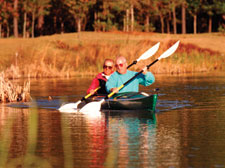 7am – Paddling on the Willow Flowage – After grabbing a quick breakfast, head to western Oneida County, which is home to one of Wisconsin's greatest wilderness gems—the Willow Flowage. At 6,400 acres, it is one of Wisconsin's largest bodies of water. The flowage's undeveloped shores and 117 wooded islands make it a spectacular place to enjoy fall color. Kayaks can be rented in Rhinelander.
10am – Shopping – Spend some time on solid ground by going on a relaxing shopping trip. The nine communities of Oneida County offer an interesting array of shops, retailers and galleries. Shop for unique home décor, jewelry, sporting equipment, specialty foods, souvenirs and locally-crafted items.
Noon – River Cruise – It's time to let someone else do the paddling. Take the Sightseeing Cruise aboard the Wilderness Queen. You'll see some of Oneida County's most stunning fall scenery as you cruise along the Wisconsin River near Rhinelander. For a complete schedule and tour information, visit www.wisconsinrivercruises.com.
2pm – Hit the Trails – There are many ways to enjoy Oneida County's great trails in the fall.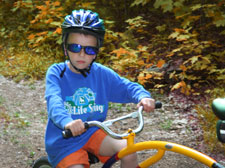 Put on your biking helmet and head out to the trail for an unforgettable autumn ride. Oneida County has several mountain biking trails to choose from. The Raven Trail is located on the shores of Clear Lake near Woodruff. The five-mile trail features a challenging mix of intermediate and expert loops through some wild and untouched wilderness. Bicycle rentals are available in Minocqua.
Just minutes from Rhinelander's bustling center, you'll find a surprising piece of untouched wilderness. The Holmboe Conifer Forest is a 32-acre natural area that protects a beautiful section of old-growth forest along the south bank of the Pelican River. Walk trails through a variety of conifer species, from dark hemlock forests to towering white and red pine groves.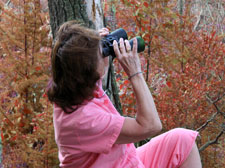 Located just 2 miles southeast of Woodruff, the Madeline Trail runs through the Northern Highland-American Legion State Forest. The Madeline Trail has four marked trail loops ranging in length from 3 to 5 1/2 miles. The forest here is an outstanding bird habitat. Bring your binoculars.
5pm – Dinner
8pm – Campfire – Crisp fall air, clear skies and lots of stories to tell—that all adds up to the perfect recipe for a campfire.
Late – Get to Bed! – Anyone's eyes would be tired out after all that fall color.
Day 3
Wake Up Late – Time to Head Home!
And right now it's time to you plan your own perfect trip to Oneida County.