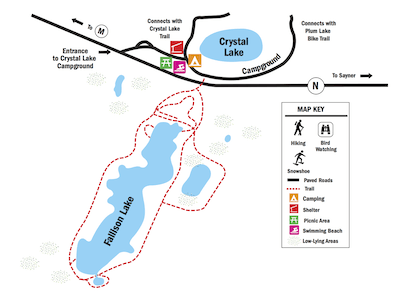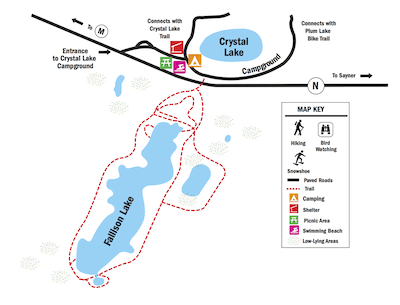 Download a printable trail map (PDF)
A beautiful, very hilly trail, with spectacular view of Fallison Lake. Booklets on wildlife, flora and trail history are available from the DNR Trout Lake Office & at the trail head from mid-May to mid-September as well as interpretive signage along the trail. Bicycling & pets are not allowed on this trail. Cross-country skiing is allowed on these ungroomed trails; however, there are sets of stairs you may need to walk around.
Length: Loops of .5, 1.0, 2.0 and 2.5 miles.
Location: Head north from St. Germain on Highway 155 to Sayner. Head west on N about 5 miles. Trail head is across from Crystal Lake Campground on Highway N west of Sayner.