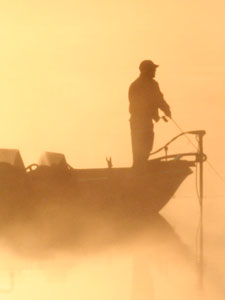 Hundreds of Oneida County lakes provide some of Wisconsin's best fall fishing for walleye, crappie, northern pike and bass. And, when the lakes freeze over, there's no better place to go for ice fishing.
Throughout Oneida County, you'll find small, friendly communities offering resorts, rental cabins, motels and vacation homes. You'll also find lots of restaurants, diners and supper clubs throughout the area. Plus, the communities of Oneida County offer unique shopping choices – you'll find everything you need for a great trip.
In addition to great fishing, Oneida County is home to dozens of woodland trails, offering great opportunities for hiking, bicycling, cross-country skiing, snowshoeing and snowmobiling. Plan your trip today!
Hazelhurst is a little piece of woodland paradise conveniently located on Highway 51. It's a popular destination for anglers and paddlers exploring the vast Willow Flowage.
Lake Tomahawk is a picturesque place to relax on a pristine beach surrounded by pines. It's located in the beautiful Northern Highland–American Legion State Forest.
Minocqua is synonymous with Northwoods fun. Surrounded by beautiful lakes, the community is known as "Nature's Original Water Park."
Pelican Lake is a postcard-perfect place to play. The community offers some of Wisconsin's finest fishing and boating lakes, including 3,585-acre Pelican Lake.
The Rhinelander Area is home of the Hodag, a creature blamed for lost golf balls, missing beverages and trophy fish that "got away."
Saint Germain is a name synonymous with Northwoods hospitality. For more than a century, St. Germain has been the "Home of the Authentic Northwoods Experience."
Three Lakes, contrary to its name, is a community with far more than three lakes. The Three Lakes Chain of Lakes is the largest inland freshwater chain of lakes in the world.
Tomahawk is the exact location of where the Northwoods begins. Located at the confluence of the Wisconsin, Tomahawk and Spirit rivers, the fishing here is unmatched.
You can also visit us on Facebook — just don't forget to "Like Us!"